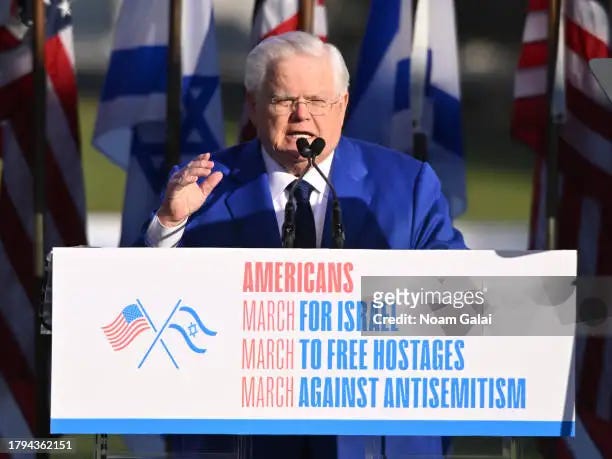 Days before New York Democratic senator and Senate leader Chuck Schumer spoke on the senate floor to condemn antisemitism, the same Chuck Schumer appeared at a Washington pro-Israel rally sharing the stage with one of America's leading antisemites, John Hagee.
Fred Klonsky in Retirement is a reader-supported publication. To receive new posts and support my work, consider becoming a free or paid subscriber.
Hagee, 83, founded Christians United for Israel in 2006 and which bills itself as "the largest pro-Israel organization in the United States." He is not a closeted antisemite.
In 2005 sermon posted online he suggested God allowed Adolf Hitler to carry out the Holocaust to allow Jews to ultimately return to Israel.
John Hagee is an exceedingly dangerous man. He has for years pushed hate-mongering rhetoric against Muslims, Jews, and others, while advocating policies such as war with Iran to hasten the end of days in which the Jews (along with others) who fail to accept Christ will be destroyed.

He describes this third world war in graphic terms: Israel will be covered "in a sea of human blood." He is not concerned about the dangers or 'collateral' human costs of the here-and-now of such policies, so convinced is he that Christ's return will be welcomed by the survivors.

Hagee's racism and antisemitism are so extreme that John McCain, then the presumptive Republican nominee for president, actually disavowed his support in 2008 (for comments suggesting that Hitler and six million dead Jews were God's instrument to facilitate other Jews moving to Israel) despite his campaign courting the millions of evangelical Christians for whom Hagee was an influential figure.

His anti-Muslim screeds include a paranoid delusion that America has been "invaded by an invisible army of millions." He called for us to "identify our enemies and wipe them off the face of the Earth before they destroy us from within." "Islamics...hate us," he wrote, "because it's their religious duty to hate us."
Also sharing the stage with the antisemite Hagee and Schumer were House Democratic minority leader Hakeem Jeffries and Speaker Mike Johnson among others.